This Sub-Award honors the best supplement for an existing Independent RPG. It is judged on the same standards as the Indie Game of the Year, but applies to game supplements rather than games themselves. This can include additional rules, setting information, or anything that enhances an existing game. The supplement may be for purchase or free.
THE Indie Supplement of the Year FOR 2015 IS...
Fiasco Playset Anthology by Bully Pulpit Games / with 52 points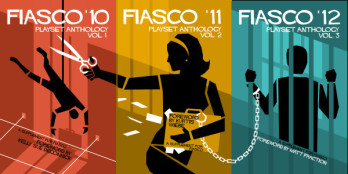 The Fiasco Playset Anthology is just exactly what I want in a supplement - extension and expansion of the base game in a way that amplifies its best parts.
So I really like more Fiasco and this is so very well done.
Its fiasco, 'nuff said.
THE RUNNERS UP:
Yoon-Suin by David McGrogan / with 26 points
Yoon-Suin brings an amazing aesthetic, both exotic and whimsical, to your table.
Essential to any game featuring orientalist themes
The Last Days of Anglekite by Brendan G. Conway / with 22 points
Brings mad, beautiful ideas to Dungeon World in a beautiful fit of twisted fantasy apocalypses colliding.
Peril on the Purple Planet by Harley Stroh / with 22 points
I liked this a hell of a lot.
Another fun DCC joint.
Age of Arthur/Time of the Wolves by Paul Mitchener and Graham Spearing / with 16 points
Merchanters And Stationers by clash bowley / with 11 points
Fire on the Velvet Horizon by Patrick Stuart/Scrap Princess / with 9 points
A wonderfully strange addition to my shelf of manuals and folios with monsters and fiends.
A work of art, incredibly inspiring
No Soul Left Behind by Caleb Stokes / with 9 points
A demon gives you superpowers. How could you not want to play this?
Description Cards: Storytellers Deck by Mark Scott (others) / with 8 points
great for authors and world builders as well as those tricky NPC interactions. \n\nNot every GM needs these but they will liven up your stories.
Wizard-Spawned Insanities by Johnstone Metzger & Nathan Jones / with 8 points
Wizard-Spawned Insanities is just exactly what it sounds like - pure awesome.
Great supplement.