This Sub-Award goes to the designer who makes not only excellent games of rules and settings, but makes excellent games that are imminently readable and catchy to the eye. It could be through primarily layout and desktop publishing skills, followed by the use of art (not necessarily the best art, just art used to maximize the effect of the layout), innovative or creative new methods of game layout, clarity and readability of the text, materials used in the construction of the game, or, in the case of PDF games, the most effective use of all the features of PDF publishing. This award goes to the game or supplement that shows off the best "Mad Graphical Design and Layout Skillz".
THE Best Production FOR 2014 IS...
A Red and Pleasant Land by Zak S. / with 30 points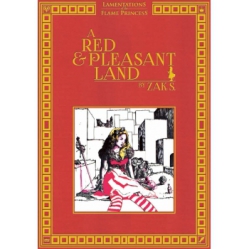 THE RUNNERS UP:
Tianxia: Blood, Silk & Jade by Jack Norris / with 25 points
Tianxia, clearly. Full stop. They bring the values that only "real RPG companies" could muster a decade ago.
Deep Carbon Observatory by Patrick Stuart, Scrap Princess / with 17 points
The Clay That Woke by Paul Czege / with 14 points
Kurt Komoda's art is lovely, and the dense but clear layout by Brennen Reece is a thing of beauty. It's a book that illustrates great care in its presentation.
Golden Sky Stories by Ryo Kamiya, Tsugihagi Honpo / with 12 points
GSS is simple and evocative with a clear presentation. No easy feat for a translated RPG!
Chuubo's Marvelous Wish-Granting Engine by Jenna Katerin Moran / with 10 points
Gorgeous production, layout bursts at the seams to hold all the text inside.
Dangers Untold by Shoshana Kessock / with 8 points
Blueholme Prentice Rules by Michael Thomas / with 7 points