This Sub-Award goes to the designer who makes not only excellent games of rules and settings, but makes excellent games that are imminently readable and catchy to the eye. It could be through primarily layout and desktop publishing skills, followed by the use of art (not necessarily the best art, just art used to maximize the effect of the layout), innovative or creative new methods of game layout, clarity and readability of the text, materials used in the construction of the game, or, in the case of PDF games, the most effective use of all the features of PDF publishing. This award goes to the game or supplement that shows off the best "Mad Graphical Design and Layout Skillz".
THE Best Production FOR 2013 IS...
Torchbearer by Thor Olavsrud and Luke Crane / with 39 points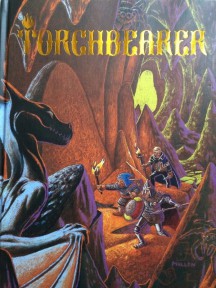 High quality and so carefully considered. Another great job from BWHQ.
The Burning Wheel crew are experts at book design by this point, and Torchbearer is the product of many years of experience. They completely captured the look and feel of AD&D and it is the sweetest thing I have ever seen on a shelf.
A beautifully constructed game that hearkens back to those early years, when every dungeon was an undiscovered country to be tamed.
A beautiful book that evokes exactly the right tone.
Somehow managed to take an aesthetic rooted in 1980 and turn it into a beautiful book.
I will never look at the font Souvenir the same way again.
THE RUNNERS UP:
The Quiet Year by Joe Mcdaldno / with 26 points
Gorgeous booklets and overall aesthetic.
I really like the form and presentation of The Quiet Year.
I'm in love with the bag set. I don't care that I designed it.
Evocative design in a tiny package.
Hillfolk by Robin Laws / with 25 points
Simply top class. Wonderful illustrations and design, all with attention to detail and quality printing.
Beautiful book with DOZENS of support campaign ideas.
EPOCH (Experimental Paradigm of Cinematic Horror) by Dale Elvy / with 12 points
Sagas of the Icelanders by Gregor Vuga / with 10 points
Designing in the viking space is similar to designing using Kanji. Gamers love it. But it's worth noting that this game is objectively nice to look at.
Luminously clear, wonderfully illustrated, really nicely presented.
Kingdom by Ben Robbins / with 7 points
With a simple, evocative aesthetic, Kingdom is iconic. Clear writing, a hall-mark of Robbins' games, and straightforward instruction make this game a pleasure to read and use.