This is a unique and very subjective Sub-Award. It goes to the designer who displayed the best support of their 2008 published game or supplement. This could be through the creation of forums or mailing lists about their game, their response times to questions about their games, the designer's use of marketing to get the word out about their game, the organization of the game's website, and of course support materials like free downloads, rules, starter kits, materials, adventures and supplements.
THE Best Support FOR 2015 IS...
The World Wide Wrestling Roleplaying Game by Nathan D. Paoletta / with 31 points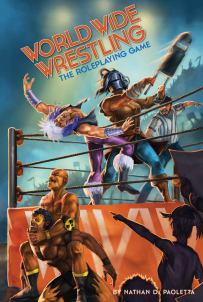 Nathan's accesibility
THE RUNNERS UP:
Night Witches by Jason Morningstar / with 30 points
The character portrait cards for Night Witches engaged fans and highlighted women gamers while respectfully offering tribute to the women of history.
Character sheets!
The playbooks, maps, handouts, etc., are all amazing. But the introductory campaign materials that carefully and precisely guide new GMs through the game are top notch work. Well written, both to teach folks how to run and to entertain, and well presented, the support materials for this game set a very high bar.
Fall of Magic by Ross Cowman / with 21 points
The variety of languages Fall of Magic has been translated into represents a tremendous international outreach effort.
FAITH: the Sci-Fi RPG by Carlos Gomez, Mauricio Gomez, Helio de Grado / with 12 points
Age of Arthur/Time of the Wolves by Paul Mitchener and Graham Spearing / with 9 points
Urban Shadows by Andrew Medeiros and Mark Diaz Truman / with 7 points
Ten Candles by Stephen Dewey / with 6 points
Ten Candles made a big splash and the designer has been all over the place, running demos, appearing on podcasts, and talking up his game online.
DayTrippers by Tod Foley / with 6 points