There are so many quality Free RPGs on the Internet that, even though Free games are considered for the Indie Game of the Year Award, they really deserve their own category. This category honors the game designers who make their works of passion and then offer them for free. Note: If a Free game wins the main award and this Sub-Award, the runner up for this Sub-Award is chosen instead.
THE Best Free Game FOR 2016 IS...
Quill: A Letter-Writing Roleplaying Game for a Single Player by Scott Malthouse / with 18 points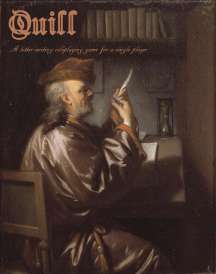 THE RUNNERS UP:
The Witch King's Horde by David Hertz / with 17 points
Schema by Levi Kornelsen / with 14 points
Queer Gaymes by KN Granger, Kat Jones, Willow Palecek, Taylor LaBresh , Tobie Abad, Toby Strauss , Stephanie Bryant, Adam McConnaughey, Jacqueline Bryk, Julia Ellingboe, Brie Sheldon, Scout Munroe / with 13 points
Something to Hide by Allan Dotson / with 11 points
A mystery game where secrets make it easier to role-play instead of harder.
Atlas by Tom Fendt / with 6 points