This Sub-Award honors the best supplement for an existing Independent RPG. It is judged on the same standards as the Indie Game of the Year, but applies to game supplements rather than games themselves. This can include additional rules, setting information, or anything that enhances an existing game. The supplement may be for purchase or free.
THE Indie Supplement of the Year FOR 2016 IS...
Microscope Explorer by Ben Robbins / with 32 points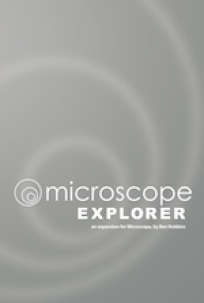 The advice has made me a better player of Microscope, and the new ways to play are thought-provoking and fun.
THE RUNNERS UP:
Broodmother Skyfortress by Jeff Rients / with 16 points
Delta Green: Agent's Handbook by Dennis Detwiller, Christopher Gunning, Shane Ivey, Greg Stolze / with 14 points
Maze of the Blue Medusa by Zak Sabbath and Patrick Stuart / with 13 points