This is the highest honor of the Indie RPG Awards. It is awarded to the best overall Independently produced RPG of the year, as chosen by peers and members the gaming community. It is given to the RPG and the designer who made it. Everything which makes a game good; from game elements of story, setting, rules, innovation, and overall game design; to physical qualities like graphical design and layout, are taken into account for the awarding of this honor.
THE Indie Game of the Year FOR 2017 IS...
The Watch by Anna Kreider, Andrew Medeiros / with 17 points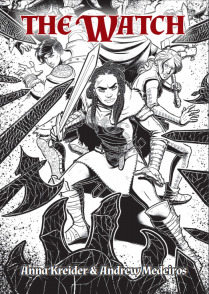 THE RUNNERS UP:
Alas for the Awful Sea by Hayley Gordon, Vee Hendro / with 16 points
Velvet Glove by Sarah Richardson / with 12 points
Timewatch by Kevin Kulp, John Adamus, Heather Albano, Kennon Bauman, Matthew Breen, Dave Chalker, Kenneth Hite, Christopher Lackey, Cindy Maka, Belton Myers, Michael Rees, Corey Reid, Paul Stefko, Jeff Yaus / with 11 points
Threadbare RPG by Stephanie Bryant / with 11 points
Love light hearted RPGS and teaddy bears as heroes reminds me of other stuffed hero games I've enjoyed in the past.
City of Mist by Amít Moshe / with 10 points
not too dark not too light.
Follow by Ben Robbins / with 10 points
No Boundaries by Marc Hobbs / with 6 points