This Sub-Award honors the best supplement for an existing Independent RPG. It is judged on the same standards as the Indie Game of the Year, but applies to game supplements rather than games themselves. This can include additional rules, setting information, or anything that enhances an existing game. The supplement may be for purchase or free.
THE Indie Supplement of the Year FOR 2017 IS...
Itras By: The Menagerie by Ole Peder Giaver et al. / with 21 points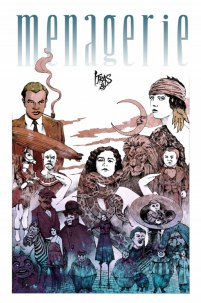 THE RUNNERS UP:
Smoke & Glass by Shoshana Kessock / with 19 points
Veins of the Earth by Patrick Stuart / with 14 points
Evocative and engaging to read.
Rotted Capes - Survivor's Guide, vol. I by Henry Lopez, Michael Surbrook, Jeffrey Witthauer / with 6 points
I've seen this before. A series of novels called Ex-Heroes by Peter CLines.
Dark Hold Goblin Adventures: Terror from the Black Isles by Rebel Minis / with 5 points
Supplemented by a unique miniatures line.