This Sub-Award goes to the designer who makes not only excellent games of rules and settings, but makes excellent games that are imminently readable and catchy to the eye. It could be through primarily layout and desktop publishing skills, followed by the use of art (not necessarily the best art, just art used to maximize the effect of the layout), innovative or creative new methods of game layout, clarity and readability of the text, materials used in the construction of the game, or, in the case of PDF games, the most effective use of all the features of PDF publishing. This award goes to the game or supplement that shows off the best "Mad Graphical Design and Layout Skillz".
THE Best Production FOR 2010 IS...
Freemarket by Luke Crane and Jared Sorensen / with 54 points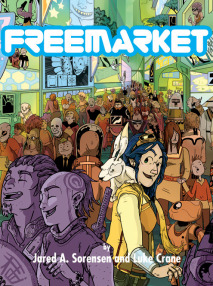 The feel of the game starts with the top notch presentation.
A boxed set with special cards - a challenge to say the least. But carried out with great style and quality.
Without a doubt: the best production in the last year is Freemarket. Higher than high-end traditional games. No Frownie from me.
A GUI to beat all gaming GUIs.
Boxed. Set. I cannot even imagine the production chops necessary for a scrappy crew to design this, source this, and bring it to market. And it is flawless.
Boxed sets. B O X E D S E T S.
THE RUNNERS UP:
Happy Birthday, Robot! by Daniel Solis / with 40 points
Saul Bass-flavored goodness! Beautiful.
The whole package is a glorious presentation for children and adults alike.
A beautiful book - the art, layout, and instructional sequences are all top notch. This raises the bar for everyone else.
Happy Birthday, Robot! has outstanding production values. So slickly done.
A delightfully cheerful burst of colour and fun in a games marketplaceplace saturated with the dull and the obvious.
A beautiful, happy book.
Hot War Transmission by Malcolm Craig and Scott Dorward / with 24 points
Lovely period feel.
A quality production. Full color and a great look. The style and quality of presentation stand out.
Apocalypse World by D. Vincent Baker / with 17 points
Dammit. He does his own art, too!
Blowback by Elizabeth Shoemaker Sampat / with 17 points
The layout and use of photography do an excellent job of capturing then genre and tone of the game.
Gorgeous, lush book interleaves the production design with the game mechanics.
Elizabeth raised the bar for us all in this great game with an aesthetic mixing the best of hollywood spi-fi with GQ and Vogue.