This Sub-Award honors the best supplement for an existing Independent RPG. It is judged on the same standards as the Indie Game of the Year, but applies to game supplements rather than games themselves. This can include additional rules, setting information, or anything that enhances an existing game. The supplement may be for purchase or free.
THE Indie Supplement of the Year FOR 2010 IS...
Hot War Transmission by Malcolm Craig and Scott Dorward / with 54 points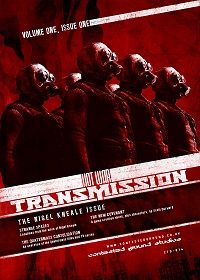 A great publication, well presented and with lots of background material.
Evocative graphic design and content that provides great fodder and inspiration for play. More great work by Contested Ground.
Hands down the best "supplementary" offering in the Indie world in 2010. A full-color magazine, the Transmission hits the heights of presentation. The content is detailed, nuanced and inspiring too. A gem that slipped under the radar.
Good stuff from Malcolm, for an excellent game and world.
Paul Bourne's art continues to sell it hard, and this series of supplements keeps the game fresh and exciting. Very well implemented and beautifully designed.
THE RUNNERS UP:
B/X Companion - Fantasy Adventure Game by Jonathan Becker / with 20 points
It looks and feels like it really is the missing companion from back in the day. That is a very good thing. Packed with useful material. My favorite OSR supplement in the last year.
I liked this so much I bought it in 1980!
Blood Tales: More than you can Chew by James 'Grim' Desborough / with 14 points
Jim Desborough's scenario for Blood is bloody and horrific. Just what you want for halloween or a convention game. Clearly written and sharply conceived.
Jim Grim is always reliably grimy and good.