This Sub-Award goes to the designer who makes not only excellent games of rules and settings, but makes excellent games that are imminently readable and catchy to the eye. It could be through primarily layout and desktop publishing skills, followed by the use of art (not necessarily the best art, just art used to maximize the effect of the layout), innovative or creative new methods of game layout, clarity and readability of the text, materials used in the construction of the game, or, in the case of PDF games, the most effective use of all the features of PDF publishing. This award goes to the game or supplement that shows off the best "Mad Graphical Design and Layout Skillz".
THE Best Production FOR 2011 IS...
Do: Pilgrims of the Flying Temple by Daniel Solis / with 53 points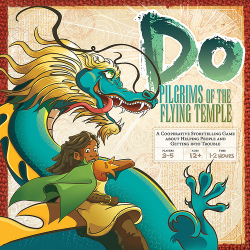 Do is a very attractive, well laid out product. it exceeds accepted standards for a scrappy indie product in layout and production.
Do may be the most perfectly produced RPG ever.
THE RUNNERS UP:
Bulldogs! by Brennan Taylor and Brian Engard / with 27 points
Spookybeans: The Gothic Comics RPG by James Carpio and Ben Morgan / with 13 points
Fiasco Companion by Jason Morningstar and Steve Segedy / with 11 points
Chronicles of Skin by Sebastian Hickey / with 9 points
Honor + Intrigue: A Swashbuckling RPG by Chris Rutkowksy / with 8 points