This is a unique and very subjective Sub-Award. It goes to the designer who displayed the best support of their 2008 published game or supplement. This could be through the creation of forums or mailing lists about their game, their response times to questions about their games, the designer's use of marketing to get the word out about their game, the organization of the game's website, and of course support materials like free downloads, rules, starter kits, materials, adventures and supplements.
THE Best Support FOR 2011 IS...
Fiasco Companion by Jason Morningstar and Steve Segedy / with 34 points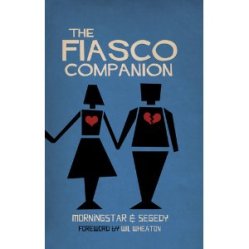 No one else comes close to the support offered for Fiasco.
THE RUNNERS UP:
Bulldogs! by Brennan Taylor and Brian Engard / with 33 points
Supplements, adventures and a host of FATE goodness makes Bulldogs! greatly supported.
Brennan Taylor was everywhere this year, often chomping on a cigar in costume, promoting and running and supporting Bulldogs!
Dungeon World Basic by Sage LaTorra and Adam Koebel / with 24 points
Dungeon World has a passionate and dedicated following and vibrant support for its players and GMs.
Gnome Stew, the Game Mastering Blog by John Arcadian, Patrick Benson, Walt Ciechanowski, Don Mappin, Scott Martin, Matthew Neagley, Martin Ralya, Kurt "Telas" Schneider, Troy Taylor, Phil Vecchione / with 15 points
Do: Pilgrims of the Flying Temple by Daniel Solis / with 12 points
Story Engine Plus Edition by Brett M. Bernstein (based on the original work by Christian Aldridge) / with 8 points