This is the highest honor of the Indie RPG Awards. It is awarded to the best overall Independently produced RPG of the year, as chosen by peers and members the gaming community. It is given to the RPG and the designer who made it. Everything which makes a game good; from game elements of story, setting, rules, innovation, and overall game design; to physical qualities like graphical design and layout, are taken into account for the awarding of this honor.
THE Indie Game of the Year FOR 2011 IS...
Do: Pilgrims of the Flying Temple by Daniel Solis / with 31 points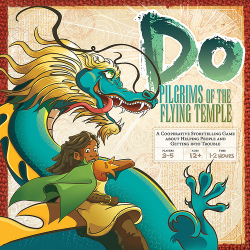 Daniel makes games like nobody else makes. And gorgeous!
This appears to have potential as a good silly game.
Very accessible game, fun for kids, beautiful artwork and layout.
Revolutionary, beautiful, brilliant.
THE RUNNERS UP:
Bulldogs! by Brennan Taylor and Brian Engard / with 29 points
Good game
One of the smarter Fate builds out there.
Microscope by Ben Robbins / with 24 points
Microscope is an attractive game that pushes the weird boundaries of roleplaying as an activity while creating compelling stories at the table. It is doing something genuinely new, which is very exciting. Definitely worthy of being game of the year.
Pushing the craft forward. Microscope is a game changer.
History is the character. Strong on its own and excellent as a setting builder.
Opens up the valves on your skull faucet.
Dungeon World Basic by Sage LaTorra and Adam Koebel / with 11 points
The big dog!
A highly accessible way into using Apocalypse World's resolution with an Old School feel, and a distinctive visual flair.
What I've always wanted from D&D.
Destined to be the flagship for non-WotC dungeon gaming.
The Agency (Revised) by Matt Machell / with 11 points
A short, slick and polished RPG that just works, simply and elegantly. A gem.
Tools of Ignorance by clash bowley / with 10 points
Innovative in taking on the sports genre, and implementing mechanics to make the games fun.
Spookybeans: The Gothic Comics RPG by James Carpio and Ben Morgan / with 10 points
How could it NOT be the game of the year?
Story Engine Plus Edition by Brett M. Bernstein (based on the original work by Christian Aldridge) / with 10 points
Story Engine was ahead of its time and remains there.
Chronicles of Skin by Sebastian Hickey / with 9 points
Tactile and visually vibrant, Chronicles of Skin is a bloody and enjoyable story-making game. Indie to its roots, with its IndieGoGo backing.
Modern Havok: Bongolesia by Mike Renegar, Ed Teixeira, Andrew J Lucas / with 8 points
Nice elaboration upon an internet meme using an established wargame system. It manages to even incorporate a little bit of social commentary upon the political and social reality of certain African states.
I loved this concept.
Courtesans: A roleplaying game of sex and society by Ian Warner / with 7 points
Mystic Empyrean by D. Brad Talton Jr. / with 6 points